Do you love the creamy texture and rich flavour of cold brew coffee? If so, you may have heard of the nitro cold brew coffee makers. These coffee makers give a thick, creamy coffee without adding a creamer, sugar, or sweetener. Even though nitro makes are many, there are particular ones with crucial differences, making them more suitable for your home. Read on the 10 best nitro cold brew coffee makers.
All cold coffee brew makers are indeed made to give the same results. But they cost you a lot more depending on your choice. When choosing a coffee maker, you should consider its model in size, dimensions, design, and what comes in the kit. You will then be able to buy the best coffee maker with excellent features that serve you well for a long time, like the ones discussed below.
---
What Is Nitro Cold Brew Coffee?
Nitro cold brew coffee is a type of coffee made by infusing nitrogen gas into cold-brewed coffee, resulting in a less acidic and smoother taste. After brewing, nitrogen is infused under high pressure, creating a velvety texture and creamy head. The nitrogen also enhances the natural sweetness of the coffee and reduces its bitterness, making it a favorite for its unique taste and texture, higher caffeine content, and refreshing nature.
---
The Benefits of Nitro Cold Brew Coffee Maker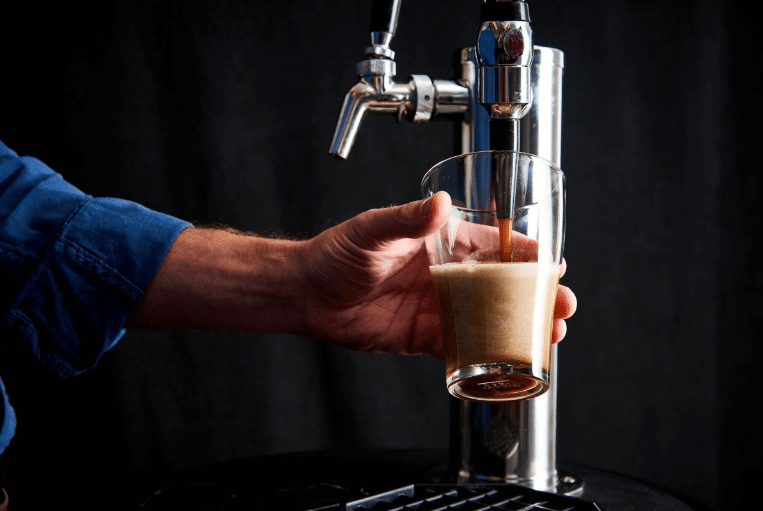 There are several benefits to having a nitro cold brew coffee maker at home or in the office:
Convenience: Enhance your home and office coffee experience with a nitro cold brew coffee maker! Enjoy your favorite cup of smooth and creamy cold brew anywhere, anytime. This is especially helpful for those who don't have nearby access to cafes or just prefer to make their drinks.
Cost-effectiveness: Investing in a nitro cold brew coffee maker is worth it, especially if you drink coffee a lot. This can save you money in the long run since making your coffee at home is much more affordable than buying it from cafes & shops.
Ability to customize the coffee to individual taste preferences: A nitro cold brew coffee maker is an excellent choice for coffee lovers as it gives you the option to customize the flavor and strength of your coffee. You can make a cup of coffee that's perfect for your personal palate.
Versatility: With Nitro cold brew coffee makers, you can craft a variety of coffee beverages, like iced coffee, lattes, and cappuccinos. Such versatility lets you make different types of coffee drinks to fit any mood or occasion.
Health benefits: Cold brew coffee is less acidic than traditional coffees which provides relief from acid reflux and other digestive issues. Besides, a higher concentration of antioxidants can help reduce inflammation and protect against various diseases.
---
Factors to Consider When Buying a Nitro Cold Brew Coffee Maker
Budget: When deciding to purchase a nitro cold brew coffee maker, it's essential to factor in your budget. Fortunately, you can find models that span every price range – from affordable options to more luxurious ones.
Size and capacity: When you look for a coffee machine, it is crucial to think about how much of the beverage your household drinks and if there's enough space in your kitchen for it. This will guarantee that you get an appliance perfectly tailored to your lifestyle.
Quality and durability: If you are searching for a durable nitro cold brew coffee maker, hunt for one made with top-notch components. To help ensure the quality of your product, research the manufacturer and read reviews from previous customers who have used it.
Additional features: When selecting a nitro cold brew coffee maker, there's a plethora of options – and features! Some machines have an integrated frother or even the ability to make hot drinks. To find one that meets your preferences, ponder which specifications are most crucial for you and search for models with them.
Ease of use: Before you purchase a nitro cold brew coffee maker, make sure it's user-friendly and straightforward to clean. Don't get yourself wrapped up in unnecessary difficulties; buying an overly complex device or one that needs laborious maintenance might not be the best choice and could cause more trouble than it's worth.
---
10 Best Nitro Cold Brew Coffee Makers to Buy
1. HB Brewing Nitro Cold Brew Coffee Maker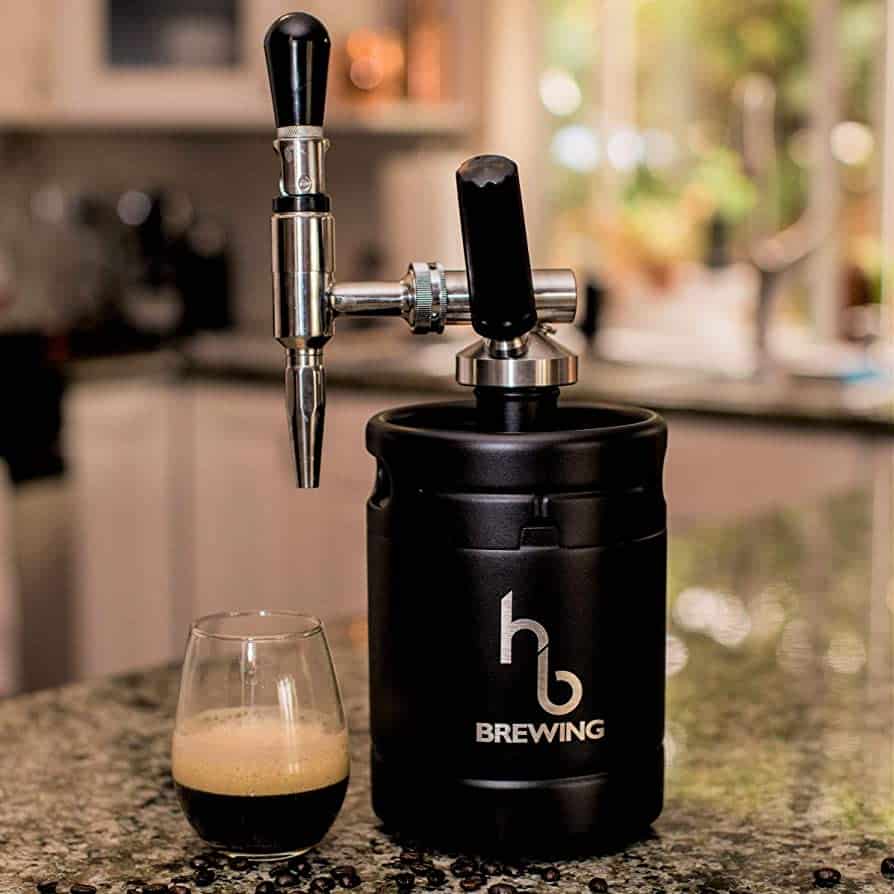 HB Brewing is a great coffee maker. When used, it gives a rich and creamy flavour of nitro coffee. The coffee maker comes with a complete kit with stainless steel, white and black colour options.
Features
The kit has the keg, faucet, tap handle, keg/ faucet cleaning brushes, and spear with a pressure relief valve.
It has a 64-ounce keg and measures 14.5" 7.5" to 7.5".
Pros
It is portable and comes in three colours
The premium tap ensures consistent pouring and limited dripping
Cons
Its plastic nitrogen cap is tricky to thread when mishandled and can break
---
2. NutriChef Nitro Cold Brew Coffee Maker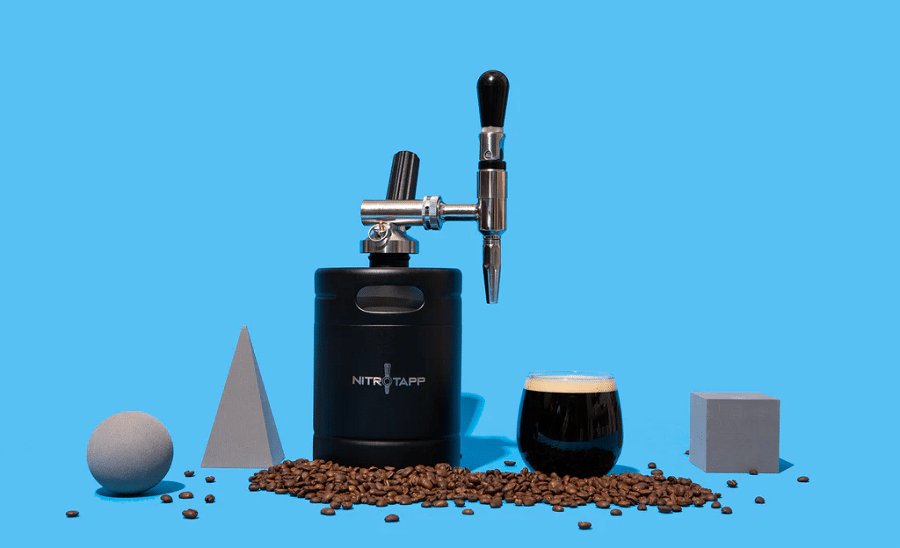 NutriChef is mainly preferred by many because it is sturdy and durable. The Nutri cold brew maker is made with food-grade, rust-proof stainless steel, making it easy to keep clean and make various coffee.
Features
It has a 64-ounce and measures 14.2" x 7.5" x 7.5"
Its kit has the keg, stout faucet N2O or N2 cartridge holder, and faucet cleaning brushes
Pros
It maintains its internal temperatures for a long meaning that your coffee will remain cold for long periods.
It is easy to assemble and build
It has a built-in handle and an upgraded faucet
Cons
Its faucet holds coffee, meaning it can leak while pouring
---
3. My Morning Brew Nitro Cold Brew Coffee Maker

My Morning Brew is the best coffee maker when you want to enjoy a premium nitro cold brew. Its kit comes with the complete package, including a mini keg, stainless steel spear, tap handle, and N20 cartridge holder.
Features
It has a unique design
It has a portable nitro dispenser
Pros
It is to store
It is durable and gives consistent results in coffee
Cons
---
4. Nitro Cold Brew Coffee Kit by Ntroknox

It allows you to brew the best coffee without adding unnecessary calories from milk or sweeteners. Nitro cold coffee brew will enable you to enjoy the best creamy coffee by adding nitrogen.
Features
It has ten pure nitrogen chargers for convenience
It has a custom 1pt metal head dispenser
Pros
It has a simple design that easily fits on your fridge
Its kit is a complete package, therefore is no worry about the further purchase
Cons
It does not keep coffee cold for long
---
5. Coffee Maker With Nitrogen: The Original Royal Brew

The Original Royal Coffee Maker is an innovative brewing system that helps you to make a cold brew directly in the growler. It gives you a delicious, coffee shop-quality nitro cold brew in the comfort of your zone.
Features
It's designed to fit in a fridge
It has disposable mesh brewing bags that make it easy to clean up
Pros
It is compact and easy to carry
It keeps coffee cold for a long time using the growler insulation
Cons
---
6. GrowlerWerks uKeg Nitro Cold Brew Coffee Maker

The coffee maker machine allows you to brew cold coffee using filter bags before using nitrogen. It uses few containers, making cleaning up a lot easier. It is made of steel and has double-wall vacuum insulation, keeping coffee cold all day.
Features
It has a 50-ounce keg and measures 10.9" x 8.2" x 5.2"
It is made of stainless steel and a double-wall vacuum
Pros
Its built-in makes it easy to carry
It has a durable site tube allows you to see how much coffee you have left.
Cons
The kit is more expensive because of the all-in-one ability
---
7. Royal Brew Nitro Cold Brew Coffee Maker

The Royal Brew is one of the best cold coffee makers ever. It is an economic nitro cold brew system without sacrificing some of the best features of a coffee maker or the materials.
Features
128-ounce keg and measures 19.5" x 7" x 5.3"
Made of stainless steel with a matte black finish on the keg
Pros
Features a tap pug to keep it from leaking between pours
It is affordable
Cons
The keg is too tall that it doesn't fit in the fridge
---
8. Beverage Elements Nitro Coffee Cold Brew Keg Kit

Beverage elements is a more extensive system ideal for offices and coffee shops. It can also be used during entertainment at home. It has a standard tap kit with quick disconnects. Its large nitrogen cylinder also allows pouring all day.
Features
It has a 5-gallon keg that measures 30" x 25" x 10"
It has a large kit that comes with a barrel, all lines, a stainless tap tower, and a 40 cu ft tank w/ regulator
Pros
It is vast and perfect for coffee shops and large events
It is durable and has a high-quality regulator
Cons
Due to its size, it is pricey; therefore, it could be better if you are on a tight budget.
---
9. Hatfields London Nitro Press

It is a nitro cold brew with a compact design and small capacity. Hatfields London Nitro Press is the best option if you are not looking to store in large containers. It holds up to 17.6 ounces of cold coffee brew and does not cause any worry about leaking in the fridge.
Features
The kit has the keg, piston valve, charger holder, nitro nozzle, N2 chargers, and canister head.
It is compatible with CO2, N2, and N2O cartridges
Pros
It is portable and has interchangeable grip hands
It allows the use of three cartridges
Cons
It is expensive and off the spectrum for its volume, and its durability and portability make it even more costly.
---
10. Nitro KAFO Cold Brew Mason Jar Coffee Maker

The Nitro KAFO coffee maker lets you enjoy nitrogen-infused cold brew coffee at home. It has innovative features that create a delicious cold brew. It makes a refreshing, smooth, and creamy nitro brew coffee.
Features
It has a stainless steel nozzle.
Its mason jar has a wide mouth and a regulator
Pros
The keg is stainless steel making it durable
It has a 64 oz. capacity that can serve a large group
Cons
Its nitro charger capsule is challenging to attach to the keg
---
Conclusion
We highly recommend investing in a nitro cold brew coffee maker if you're a coffee lover who enjoys a refreshing, smooth cup of coffee. It's a great addition to any home or office and can provide you with the convenience and cost savings of making your coffee while enjoying the delicious taste of a cafe-style nitro cold brew coffee.