Looking for the best espresso machine under $2000? Check out our list of the top 10 machines that offer a range of features, performance capabilities, and design styles. From the iconic Rancilio Silvia to the modern De'Longhi Dedica, find the perfect machine to suit your personal preferences and budget.
If you are a coffee enthusiast who wants to enjoy a cup of coffee at home, investing in a quality espresso machine is a must. While there are many options available, it can be overwhelming to find the right espresso that fits your budget and needs.
In this blog post, we've compiled a list of the 10 best espresso machines under $2000, taking into account factors such as performance, features, ease of use, and overall value for money. So let's dive in and discover the top espresso machines available in the market.
---
Best Espresso Machines Under $2000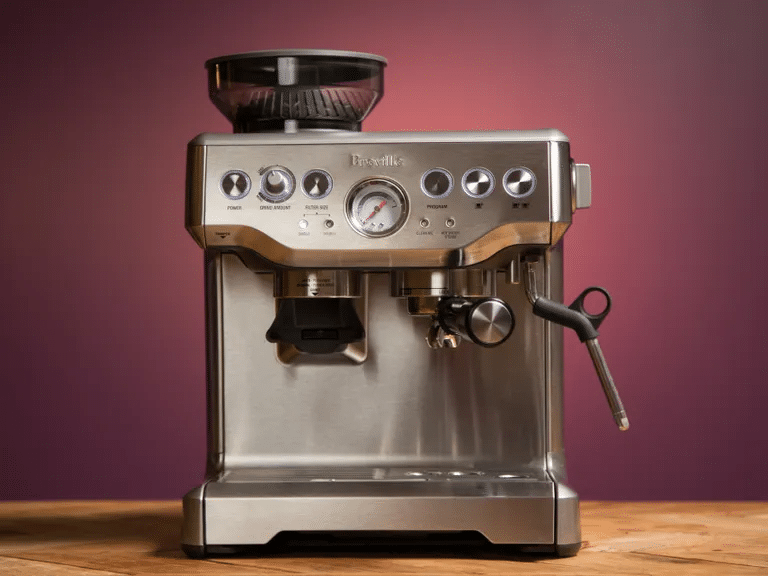 If you are looking for an Amazon bestseller espresso machine, the Breville Barista Express is perfect for you. This fantastic espresso machine comes with a built-in grinder, allowing you to grind your coffee beans just before the extraction. This gives your coffee that rich, full coffee flavor we all love.
The machine has a manual steam wand, which will texture the milk to your liking. Whether you want a cappuccino or a cortado, the Breville Barista Express milk frother will give you the perfect milk foam. With this espresso machine, you can brew either a single or a double-shot espresso.
Features 
Built-in grinder
Stainless steel con
Manual steam wand
Grind size dial
Pros
Produces high-quality espressos
Precise extraction results
Microfoam milk texturing
Compact footprint
Cons
---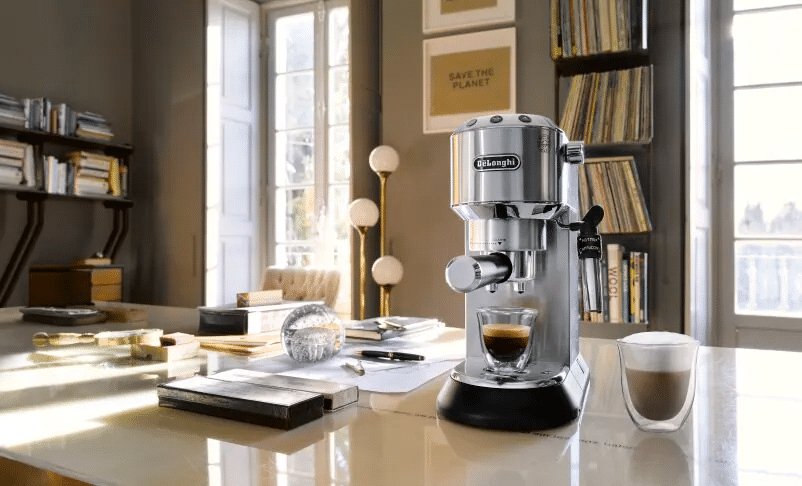 The De'Longhi Dedica is an affordable espresso machine that produces high-quality espressos. This machine is perfect for beginners since it's very easy to use. Its compact footprint makes it ideal for those with small kitchen counters. The machine holds about 1 liter of water.
The De'Longhi Dedica espresso machine has three control buttons at the front. Press the first one when you want a single-shot espresso, the second one when you want a double-shot espresso, and the third for steam. We can't forget its thermoblock heating system that allows you to brew your espresso in 40 seconds.
Features
Thermoblock technology
Manual steam wand
Compact Design
Pros
Automatically shuts off after 20 minutes
Easy to use
Affordable
Cons
Lacks an in-built coffee grinder
---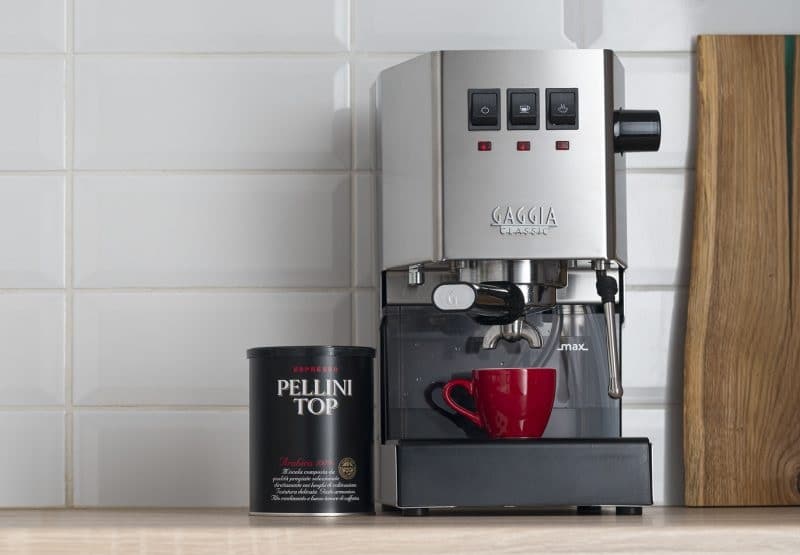 Gaggia Classic Pro is one of the most popular espresso machines today. The machine has a very attractive and classy look, making it superb for coffee lovers looking to add a touch of exquisiteness to their kitchen countertops.
It is made with high-quality material, ensuring its durability and longevity. This machine also comes with a commercial steam wand, which enables you to froth your milk like a pro.
However, the Gaggia Classic Pro lacks some modern features, such as PID temperature control and a built-in grinder. As a result, you may have to purchase a coffee grinder and a PID kit which will cost you extra money. Despite these limitations, the Gaggia Classic Pro is an excellent choice for those looking for a high-quality and reliable espresso machine. 
Features 
Commercial milk wand
Commercial sized portafilter
Dual heating elements
Pros
Affordable
Easy to use
Produces high-quality espresso
Cons
---

If you are looking for an iconic espresso machine, get your own Rancilio Silvia. This machine has been around for over two decades and has earned a reputation as one of the best espresso machines.
The machine has a sturdy construction that makes it durable and long-lasting. It comes with four manual rocker switches that you'll press when you want power, brewing, hot water, and steam. It also has a commercial steam wand that enables you to froth your milk the way you want.
Just like Gaggia Classic Pro, Rancilio Silvia has no in-built grinder or the PID system.
Features
Commercial-sized portafilter
Powerful steam wand
Commercial grade components
Pros 
Easy to use
High-quality construction
Cons
Requires regular maintenance
---

The Breville Bambino Plus will offer you some of the coolest modern features that will take your brewing experience to the next level. This machine is designed to make the process of making espressos as seamless and effortless as possible. It comes with a thermojet heating system that allows you to brew in just 3 seconds.
The machine has a pre-infusion function that ensures even and consistent extraction of your espresso shot. The steam wand is automatic, so all you need to do is to place the milk under the wand and let it do its thing. You'll find five buttons, each with its function, including single shot, double shot, steam, milk temperature, and froth level. 
Features 
Automatic milk wand
Compact footprint
Thermojet heating system 
Pros
Easy to use
Super fast start-up time
Cafe quality microfoam  
Cons 
---

The De'Longhi La Specialista Prestigio espresso machine is famous for its advanced features, allowing you to achieve the perfect espresso shot every time. The machine features a professional-grade in-built grinder that allows you to grind your beans to perfection.
The machine has a unique brewing system that uses a thermoblock heating system to deliver precise temperature control. This ensures that your espresso is extracted at the perfect temperature for optimal flavor and aroma. The machine's steam wand allows you to create perfectly textured milk for lattes and cappuccinos.
Features
In-build coffee grinder
Sensor grinding technology
Dual heating system
My LatteArt steam wand
Pros 
Easy to clean
Cafe-quality milk foam
Cons
---

Caffe Affetto is a high-quality and stylish espresso machine that is designed to deliver exceptionally good espressos with a single press of a button. This machine comes with an in-built conical burr grinder, which allows you to grind your coffee beans to your preferred level of coarseness.
One of the most innovative features of Cafe Affetto is its WIFI connectivity. This allows you to adjust settings and program the machine to make your favorite espresso drink.
Features
WIFI connected with drink customization technology
A built-in, conical burr grinder
Built-in foam technology
Built-in bean hopper
Pros
Produces high-quality espresso
Easy to use
Creates a variety of milk texture
Cons 
---

The Breville Dual Boiler is a powerful, sophisticated espresso machine with two boilers. That is why it's called Breville Dual Boiler. The dual boiler feature allows you to brew espresso and steam milk simultaneously without any loss of pressure or temperature.
Breville Dual Boiler allows you to set and maintain the temperature of both brew and steam boilers independently. The machine also features a programmable interface that allows you to customize the volume of your espresso shot and even save your preferred settings for future use. 
Features
Dual boiler
Commercial grade portafilter
LCD display
Manual steam wand 
Pros
Produces high-quality espresso
Cafe quality microfoam
Customizable settings  
Cons
---

The Rocket Appartamento is a stunningly designed and well-built espresso machine that offers exceptional performance and quality. One key feature we love about this machine is its compact size, which makes it ideal for those with small spaces. However, the small size does not limit this machine from producing high-quality espresso shots with ease.
The Rocket Appartamento also allows you to steam milk and brew espresso simultaneously. It has a professional grade E61 group head that ensures even and consistent extractions of your espresso shots. The machine also has a large water reservoir that fits up to 2.5 liters of water.
Features
Heat exchange machine
Sprouted portafilters
Small footprint
Rocket Design
Pros 
Simple to use
Allows you to brew and steam milk at once
Cons
---

The Gaggia Accademia is a high-quality espresso machine made for coffee aficionados looking to enjoy their espresso drinks at home. It has a range of advanced features, making it one of the best espresso machines you can get.
The machine comes with a bean hopper and a ceramic burr grinder, which allows you to grind your coffee to your liking. It also has a pre-fusion system that ensures your coffee grounds are fully saturated before extraction. This gives your coffee a rich, full flavor you'll appreciate.  
Features
In-built grinder
A water tank that holds up to 0.5 liters of water
In-built milk frother
Pros
Programmable coffee quantity
Easy to use
Rich flavor and aroma
Cons
---
What Are The Benefits Of Owning An Espresso Machine Under $2000?
Owning an espresso machine has several benefits, including:
The ability to make espresso and other coffee drinks at home.
The opportunity to explore different types of coffee from various roasters.
Cost savings compared to buying coffee from a cafe.
Attracting more customers to a cafe by serving high-quality espresso and coffee drinks.
---
Features to Consider in Espresso Machines Under $2000
When looking for an espresso machine under $2000, there are several features to consider:
Durability and construction: Invest in durable machines made with superior materials that are constructed to endure constant use and provide long-term service.
Water tank size and capacity: If you're looking for convenience, take into account the size of your water tank and how many espresso shots it can make before needing a refill. The bigger the tank capacity, the more coffee drinks you'll be able to craft without having to fill up again!
Ease of use: Seek out machines that are straightforward to use. Features such as programmable buttons, digital displays, and other user-friendly capabilities make the experience much more enjoyable.
Milk frothing and steaming capabilities: If you're thinking about making coffee drinks such as lattes and cappuccinos, it's essential to consider the machine's milk frother or steam wand and how straightforward it is to operate. That way, you can enjoy your favorite creamy beverages with ease!
Customizability of espresso shots: Invest in a machine that offers customizable settings for strength, temperature, and volume to produce espresso shots just the way you like them.
Maintenance and cleaning: When searching for the perfect machine, take into account how effortless it will be to maintain. Be sure to pick one that has detachable parts so you can clean and descale with ease, eliminating any possible buildup from occurring.
---
Conclusion
As you can see from our top 10 list, there are plenty of high-quality espresso machines available on the market. These machines are affordable and offer a range of features and performance capabilities. Whether you are just a beginner or a pro barista, there is an espresso machine that will suit you.
In the long run, the best espresso machine for you will depend on factors such as your budget, personal preferences, and coffee-making needs. We hope that this list has provided you with valuable information.