Coffee is a staple for many individuals every morning. Therefore, nowadays most hotel rooms come equipped with coffee makers. In no way should your rental space be an exception: check out our list of the top 10 coffee makers for Airbnb.
Do you plan to provide coffee makers for guests at your Airbnb? Then, consider an option that is appropriate for your property and influential relative to consumer needs. The best coffee machine for an Airbnb is one that makes delicious coffee, is easy to operate, reasonably priced, and is long-lasting.
To ensure that our selection is real, we polled well-known Airbnb hosts and internet users for their reviews. Here, is a list of the top ten coffee machines suitable for Airbnb, as determined by our research.
---
The Top 10 Airbnb Coffee Makers in 2023
If you opt to become an Airbnb host, it goes without saying that you need a coffee maker. Here, we will go through each machine's specifications and why it would be an excellent fit for your Airbnb.
Continue reading to learn more about each listed coffee maker as you look forward to making your purchase.
1. Technivorm Moccamaster KBT
Technivorm Moccamaster is the best coffee brewer on the market today. If you love coffee, you may have come across the Technivorm Moccamaster, "a gorgeous drip brewer," in trendy coffee shops. It's more expensive than average coffee makers, but it's pre-infusion and brewing methods produce the highest quality coffee ever from a drip coffee machine.
It's easy to dismantle the Moccamaster KBT for simple cleaning. Its durability isn't a concern as it comes with a five-year guarantee. Its specifications include the following:
Dimensions: 16.14" x 13" x 6.7"
Materials: Stainless steel
Carafe: Thermal
Filter Style: Cone
Capacity: 10 cups
2. Keurig K-Elite Coffee Maker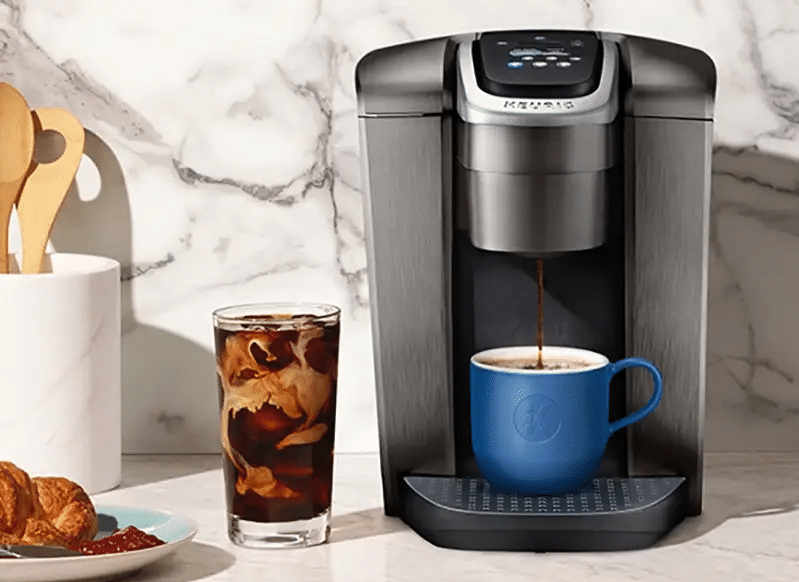 Do you want a simple and quick solution for coffee brewing? If yes, consider purchasing a Keurig K-Elite Coffee Machine. The K-Elite has a powerful pump that brews the coffee at the ideal temperature for a perfect cup. It also includes a descaling feature and an automatic shutoff for your convenience.
It is an ideal coffee machine for Airbnb hosts due to its convenient layout and extensive functions. Its specifications include:
Capable of brewing (4, 6, 8, 10, 12oz) cup sizes
Programmable, so you can set it to brew coffee at a specific time
The iced setting for hot summer days
It can accommodate 7.2 inches tall travel cups.
Energy-saving mode
3. Breville Precision Brewer Coffee maker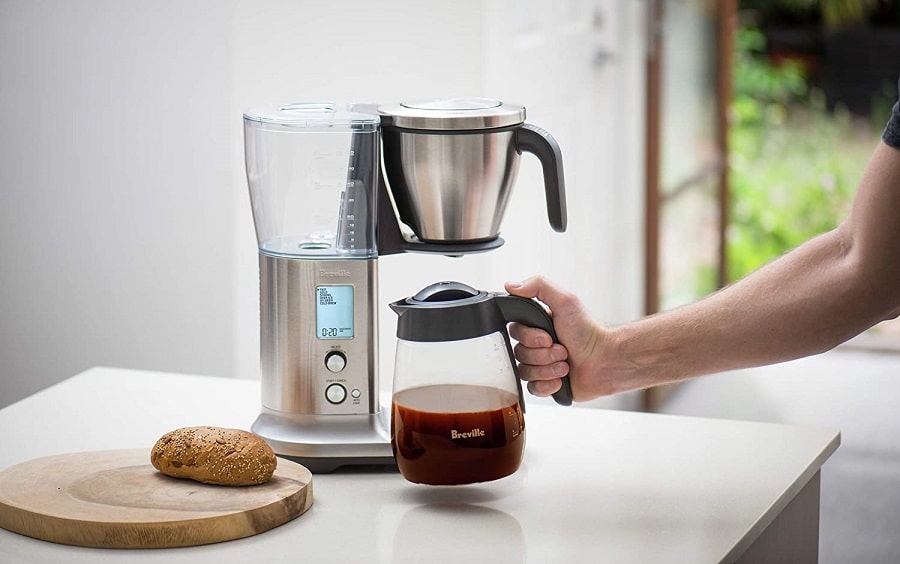 The Breville Precision Brewer popularity is rapidly rising. It has proven to be a formidable competitor to other more expensive drip coffee makers in the market. It's Gold Cup mode, calibrated to SCAA standards, is one of its six predefined brewing settings. Alternately, you can brew your coffee to a unique flavour profiled by your preferred coffee beans. Simply you can do this by altering the bloom time, brew temperature, and flow rate.
The machine uses a PID to ensure consistent temperature across the optimum brewing range of 197 to 204 degrees Fahrenheit. Here are its essential specs:
Dimensions: 14" x 9" x 16"
Material: Brushed stainless steel
Carafe: Thermal
Capacity: 12 cups
Filter style: Basket and Cone
4. Black+Decker Thermal Coffee Maker 12-Cup

Whenever you go for this coffee maker, there is a choice between a glass carafe or a stainless-steel carafe. As for us, we preferred the stainless-steel model because it is more durable and suitable for Airbnb hosts.
Additionally, the coffee maker is programmable. As a result, visitors can load the machine in the evening and schedule a brewing session the following morning. To avoid overheating, the machine has an automatic shutoff feature. With that said, here are its specifications:
Capacity: 6 Pounds
Colour: Black, Silver
Dimensions: 8" D*11" W*11.5" H
Special feature: Thermal
5. Keurig K-Slim Coffee Maker

The machine is one of the finest coffee makers recommended for Airbnb. It is small in size and straightforward to operate. It's under-5-inch width ensures an easy fit on your kitchen counter. The detachable 46-ounce reservoir allows you to brew up to 48-ounce cups before making a refill.
The Keurig K-slim is an excellent option for an Airbnb coffee machine. Below are it's features and advantages:
Compact and easy to use
Fast brewing time
Removable water reservoir
Reusable filter
6. Cuisinart DCC-3200
  
The Cuisinart DCC 3200, available in 12 and 14 cups, are capable of all coffee brewing functions you may wish for. Particularly, customers adore it's hot-plate temperature control. It's 24-hour programmability makes it stand out. It includes an automatic shutdown function, a 1–4 cups setting, and a self-cleaning function.
If you want to brew coffee in bulk using hot water at an ideal temperature, this coffee maker is all you need. Some of its features are:
Dimensions: 7.75" x 9" x 14"
Materials: Stainless steel & plastic
Filter Style: Cone
Capacity: 12 and 14 cups
Carafe: Glass
7. Keurig K-Duo Plus Coffee Maker

Every household requires a Keurig K-Duo Plus Coffee Maker. The heated carafe holds 12 cups, and a mesh reusable ground coffee filter that improves coffee flavour. The coffee maker makes grounds and pods in six sizes ranging from 2-ounce to 60-ounce.
This coffee maker eliminates the need to track brewing times and supplies. As a result, Airbnb hosts who want to offer excellent coffee to their guests should utilize the Keurig K-Duo Plus. Its key features include:
Mesh reusable ground coffee filter
12 cups thermal carafe
Use both grounds and pods
Six different size settings
8. Ninja Specialty Coffee Maker 

This machine is a dual coffee maker. With it you can make a single cup or make a whole pot of coffee. Whether you prefer a strong or weak beverage, a simple cup of black coffee, or something fancier like a latte or vanilla iced mocha, this is the machine for you.
The Ninja Specialty is the most flexible option. However, despite its ability to produce iced coffee, it cannot brew cold coffee. It's features include:
Materials: Stainless steel
Dimensions: 12″ x 8.8″ x 15″
Filter Style: Cone
Capacity: 10 cups
Carafe: Thermal
9. KitchenAid KCM1208DG Coffee Maker

The Coffee Maker has a 29-hole spiral showerhead that saturates coffee grinds for enhanced extraction. The water filter's measuring marks are marked in gold, and has a dosing chart at the water tank's side to aid you when measuring water. Its water tank is removable, transparency and has a wide mouth ideal for containing spills, refilling and cleaning.
Additionally, the warming plate keeps the coffee at the ideal temperature for two hours. Its primary characteristics are:
Transparent, removable water tank
29-hole spiral showerhead best
Convenient warming plate
10. Keurig K-Mini Single-Serve Coffee Maker

The compact 4.5″ x 11.3″ x 12.1″ Keurig K-Mini is ideal for kitchens with small counter space. It is available in six distinct colours, allowing you to match it to your kitchen's decor. It's convenient for serving coffee to guests as it works with K-cups or other standard-sized cups. Due to its compact size, the included water reservoir can only serve once. This can cause inconvenience for couples staying at your Airbnb but is ideal for one person.
---
Conclusion
If you've been looking for the best coffee makers for Airbnb, this post has covered all your alternatives. First, examine your customer preference before purchasing a coffee machine. The best coffee machine for an Airbnb makes good coffee, is simple to use, reasonably priced, and is long-lasting. Before selecting the best coffee machine for your Airbnb, take every precaution.